Post by PolarStarQuote on Mar 18, 2019 11:55:45 GMT -8
10
total points to distribute
| | | |
| --- | --- | --- |
| Discipline | Stat Pts | MOD |
| STR | 16 | +3 |
| DEX | 13 | +1 |
| CON | 10 | +0 |
| INT | 5 | -3 |
| WIS | 12 | +1 |
| CHA | 14 | +2 |
Princess Athena
The Kingdom of Victory
Alignment
: Lawful Good
Motto
: "Who am i? I am Athena, Heroine with Miracle Power! Come and join me for a Fantastic Adventure~! If not...Then Put up your Dukes!"
Allies/Friends
: The Titan Goddess, Maid Helene, Her Parents
Enemies/Rivals
: Emperor Dante, Neptune, Chimera, Gryupus, Mado
Backstory
:
snk.fandom.com/wiki/Athena
Appearance
: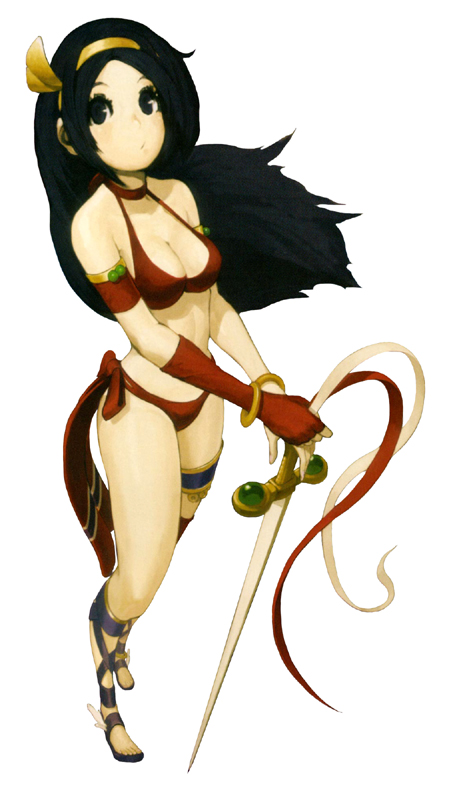 History On Li
: Athena was starving for adventure once again, as he current progress to get 100 Good deeds to get back to heaven was turning caput, as her good deed count had returned to a meager 0 after partaking in an extra slice of cake at a restaurant. Damned the heavens, That cake was too good to pass up! Athena would sigh, sadly trying to find an adventure to do good with once more, Before the voice of the Titan Goddess would reach her mind once more...
"Athena! I have a duty for you, if your interested. It should be worth a good 15 good Deed's in it of itself~!" The Titan goddess would say, as Athena perked up. "Ohh?? It isnt another world conqueror, is it? Thats so haaaard..." Athena would whine, as the Titan Goddess opened up a Dimensional door before Athena.
"The World is one known as Li...It is sickened, with a dark plague, and many, many evils! If you help to rescue it, i assure your spot in heaven shall be achieved yet! Besides, you may snag a few extra on your way there~" She would say, as Athena would mill over the idea of dying of a dark Plague...
But at the same time, Adventure! With that, Athena lept into the Dimensional door, Clinging her golden blade to strike at any demons in this so called 'Li!'
Primary Attacks (3)
Golden Fire Sword
: Athena's Traditional Weapon, A Golden, Shimmering blade, Blessed to her by the Titan Goddess. The Holy might of this blade would send any demon worth its claws to start running! (Deals 15% Damage, Gains +5% when attacking an Unholy Monster or Demon. STR.)
Princess Fighter
: Using her formal combat training, Athena uses graceful and some Non-graceful attacks, Swinging her hips and throwing some swift jabs to deal some direct damage with her body, Holy light of the goddess adding power to her attacks! (8% - 18% Damage,STR)
Lion Buckler
: A Golden, Heart-shaped Buckler emblazoned with the image of a Lion upon its front. Using the Buckler, Athena charges at full flaming strength, summoning up the power of the Leo Zodiac in her charge! (STR, Afflicts 20% Damage, 1 Turn cooldown.)
Special Attacks (3)
Titan Goddess, Bless me!
: Athena Prays to the Titan Goddess upon her hands and knee's, Beckoning her call to bless her with holy might! Grants Athena a Temporary Sparkling Aura, Creating a Diamond-like glow to herself to warn others that she's about to strike!
Puts a 3 Turn cool down on one Special Attack Athena has, And grants her a 'Titan's Blessing' Buff. Can then Consume this Buff to add 1d10% Damage onto her next attack. The Buff can be Stacked, to add an additional 1d10 Per Special Attack put on Cool down. Can not tap the same special move more than once, Until the Titan Blessing is Consumed. Can not be added to her Final Smash, and can not be given to others.
Titan Goddess, Armor Up!
: Calling upon the Titan Goddess to grant her a new set of armor, The Titan Goddess delivers a magical set of clothing atop whatever Athena's Wearing! Makes it alot more justifiable to have a Bikini on then.
Rolls a Flat d20. Depending on the result, Grants Athena a different set of Armor, that only lasts for 3 Turns.
1-5 ;
Berserker's Garb;


Grants Athena a Wearable Loincloth of Armor, Which seems to not cover up much more than the Bikini did! Athena gains +1 to STR While equipped, and also gains a temporary primary move--
Berserker Saw;
A Ragged and bloody two-handed blade, resembling more a massive saw than an actual sword! Afflicts 15% Damage, with 5% Chance of afflicting Mortal Wound.
6-10;
Holy Armor;
A Set of Robes and Platemail, that comes adorned with Pegasus Feathering! Gains +1 CON While equipped, and gains a temporary primary move--

Morning Star;
A Giant Mace, Made of Pure Gold! Afflicts 23% Damage, with a 5% Recoil!
11-15;
Dryad Wrap;
A Light-weight wrapping of twigs and Leaves, that boosts DEX +1 while equipped, and gains a temporary primary move--
Dryad Bow
; A Wooden Bow and Arrow, that fires natural made arrows at a target. DEX, Afflicts 5% Damage, Combo-able.
16-20;
Queens Robe;
A set of Robes and Jewels, Befitting of a dessert princess! Grants +1 WIS When equipped, and gains a temporary primary move--
Fire Rod;
A Golden Rod of Magical power, which fires firebolts at incredible power at a target! Deals 12% Damage, and 50% Chance to afflict Burned to a target!
Poseidon's Blessing
:
Using her Magical Amulet, Athena Transforms her entire form, Turning into...A Mermaid! On Land, Athena summons forth a rushing stream of water, And Crashes into a target, Slapping them with her tail for rapid 5d5 Damage, along with a 35% Chance of afflicting the target with Soak, Before turning to normal once again. Costs 2 Actions per use.
Alternatively, If Athena transforms into a Mermaid whilst underwater, She gains a Temporary +2 DEX for 3 Turns, whilst transformed, at the cost of 2 Actions upon use, and unable to use the Slapping attack mentioned above whilst transformed.
Golden Miracle Fantasy!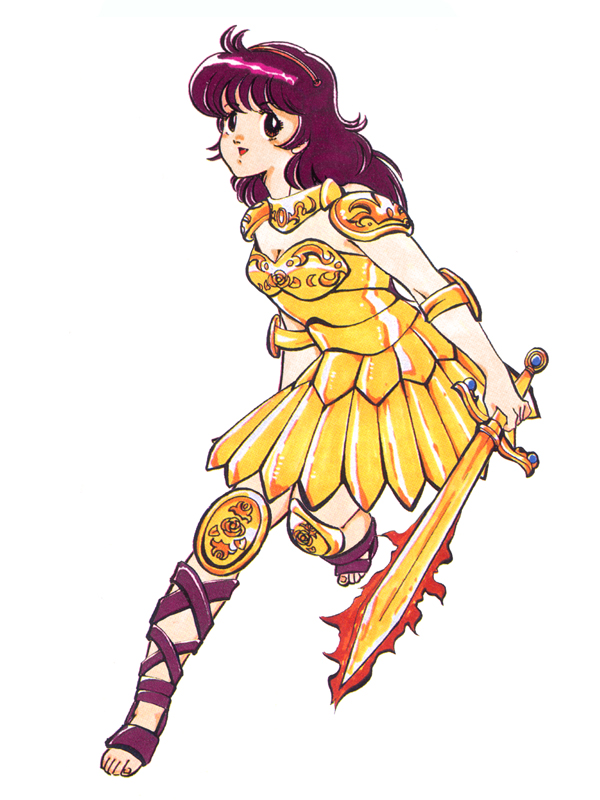 Summoning up the power of the Titan Goddesses blessing, Athena becomes blessed with her ultimate Armor, The Golden Goddess Armor! Using its might, Athena gains a temporary 3 turn buff, and gains a +2 to All of her modifiers, A Free Titan Goddesses Blessing Buff that may, instead of being consumed upon use, instead has a 3 turn cooldown, As well as access to ALL Of her Primary Moves from Armor Up! As well as this, she gains a temporary Special Move;

Exceeding Pegasus Fantasy!; Summoning forth her Pegasus, Athena charges into an enemy, delivering a mighty slash, Sending a target flying back! Deals 32% Damage, Only usable once per Golden Miracle Fantasy Transformation!
Other Info
: Athena's Bikini outfit is preferred by her, due to the simple fact that its easy to have equipped when performing Armor Up's, So she wont need to remove her clothes before putting new armor's on. As well, She simply finds it easy to work with, as she wore similar attire when vanquishing Dante's Forces.
Formerly, a Guardian of Heaven. Currently banished from Heaven due to her rebellious nature, And is required to do 100 good Deeds to return. However, These good deeds are incredibly hard to perform. Saving the world from a world threatening villain was only worth 15 Deeds, and was removed by taking more than one piece of cake for dessert. The gods are quite fickle, indeed.
The Titan Goddess follows along Athena's path, and looking upon her through Divine watch. However, She doesn't seem to really get too involved, unless Athena herself beckons her call. She's a gentle goddess, however, always meaning the best for the world, and sadly being a bit overworked in her time. Athena acts as the Titan Goddesses Personal Vassal.
In certain Crossover games, Athena was considered the 'Rival' of sorts to Red Arrmer, Otherwise known as Firebrand, Due to there Similar tasks of guardian of Heaven and hell, Respectively. She has also thought Dan Hibiki as a Foul Monster.
Athena has a Great great great great great great grand daughter named...Well, Athena Asamiya, a Psycho Soldier! However, Athena does not know this yet, and will deny the fact she is anyone's grandma.
Doesn't like Swearing, as its Un-heavenly.
Athena is quite dim. For instance, She opened a door warned to be a 'Door that must never be opened', And Falling into the unholy world. Then, she proceeded to open 'The Door that must never be opened; 2", When she was bored, Sealing her AND her maid, Helene.
Is apparently good at skateboarding. Apparently has the ability to tell the future through Astrology, but has yet to really do this outside of a hobby.
Enjoys Cherries in Syrup as her favorite food, Favoring Pickled Cherries most of all, as well as Pudding! Dislikes Slimes and Slimy places.