Post by PolarStarQuote on Mar 6, 2019 0:03:03 GMT -8
10 Dreams Consumed
| | | |
| --- | --- | --- |
| Discipline | Stat Pts | MOD |
| STR | 14 | +2 |
| DEX | 8 | -1 |
| CON | 14 | +2 |
| INT | 6 | -2 |
| WIS | 14 | +2 |
| CHA | 14 | +2 |
Raffideux
Mirage Portal, YOU! in Wonderland!
Alignment
: Neutral Evil
Motto
: "I may be a Mirage...But your shadow will never lie~!"
Allies/Friends
: Darkrai
Enemies/Rivals
: Raffina, Amitwo, Amithree, Cressalia
Backstory/History on Li
: When Raffina entered the Mirage World of You in Wondrland! She had met a Shadowy Figure that looked exactly like herself. A Doppleganger, Which attempted to force the old , Hateful morals she shared in the past back onto her. Raffina, In her haste to leave, Would tell this Shadow that she isnt her. They were not the same.
Most shadows, When being told this by there others, Rampage is a horrific Fury, Attempting to demolish anything in there way, in there attempt to become the one, true version of themslves. However, Due to the Mirage portals nature, the portal allowed the True Raffina to leave, Before she could be harmed. Distraught by this, Shadow Raffina would rampage through the velvet room, Destroying anything she could find.
While Igor and Cressalia both agreed, She needed to be destroyed, The Shadow Raffina would be close to death as she was closed off from the Mirage, Slowly suffocating and losing form. Until a strange circumstance, In which a Mysterious, Dark voice would offer her an exit. A Melted Painting portrait would appear before Shadow Raffina, Acting as a guide out of the Mirage Portal, And into Li, The real world.
When Shadow Raffina exited, She found herself wearing a Deep Blue outfit, With a Bat Wing in place of the Angel Hair Clip she usually was forced to wear. The Dark Voice would tell her, That for her life, She would have to repay him.
"Become Stronger than any of those who abuse the mirage portal for there own gain. Drain the Life of those lesser than you, And gain infinite power."
With that, the Dark Voice granted her a Spell bound to her right arm. A Beam, Which can spiritually rip Mana from those she hits. How convenient. Shadow Raffina was going to do that anyway~ With a bright gleam of her fangs, She quickly decided to Dub herself a new name. After all. Just as Raffina Said...She wasnt Raffina Anymore. She was true version of her.
"Now Go. Consume the Dream."
Raffideux was Born, October First. Since then, She has drained the souls of many of Li's Citizens, from Goomba's, To Humans, and Devouring there Souls, There magical essences filling Raffideux's Heart...However, She did not grow stronger. Confused, Raffideux wandered and lost purpose, Not aided by just how much Raffina had....Grown, Without her. Raffideux was a Shadow, Lost without purpose.
However, After meeting a fellow Doppelganger of another magic user, Warle, A Idea was formed from Warle. If Raffideux was born from the mirage, Perhaps, By absorbing the Mirage herself, She could regain a true form. Using Isonus's Classroom in Hylia's grace, The two (with help of Khaida), Transfered the pure extracted essence of Mirage from various items, and after Absorbing it, Raffideux transformed into her Truest, Current form. She had gained a Power far greater than she had any right to...she could Control the Mirage Magic. The Reality Bending Element of Cressalia
It was then, Raffideux realized the power she gained was not from souls, But instead, from the Dreams of her victims, that empowered her. With that, She became Smarter, And stronger, and became ready to consume the dreams of all.
Appearance
:
Primary Attacks (3)
Nightmare Fighter
: Based on, and Indeed heavily using Raffina's fighting style, Raffideux incorporates Raffina's Ability to fight into her own. Known as Mixed Martial Arts. (8-18% Damage, WIS.)
Vorpal Crissaegrim:
Using the power of her Mirage Magic, A Replication of Alucard's Blade made of Mirage Energy emerges from her body, Invisible to all besides Raffideux. This Blade is named the 'Vorpal Crissaegrim', And surrounds Raffideux in blinding slashes! This attack is very similar to a legendary blade...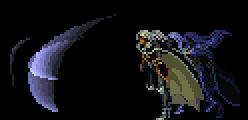 Regardless, It may either slash on its own, Or along with Raffideux's Kicks, Similar to Raffina's Grele!
(Deals 9% Damage. If the Accuracy roll of this move is 16 or higher, Add 1d2 additional Combo-Hits to this move.)
Vampire Knives:
Created from the Simulation made by Ciel, Raffideux has brought back the Item, the 'Vampire Knives', And combines them into her own array of magical blades. Raffideux creates and throws, in tandem, a Barrage of Vampire Knives colored a ornate Red. ((Deals 3d5 damage! Raffideux heals for Half of the Damage dealt. -1 to hit, 1 turn cooldown.)
Special Attacks (3)
Cauchemar
; Cauchemar is a Passive/Activated Ability that Raffideux has obtained by being able to Manipulate the energy of the Mirage as a Nightmare. As a Passive, Raffideux's attacks at an Accuracy Roll of 16 or Higher afflict One stack of 'Nightmare' Onto Targets they hit, Or on Nat 20's, Afflict Two.
Nightmare; A Passive Stacking buff that can stack up to Seven times. Each stack expires three turns after use.
As an Active, Raffideux may perform a WIS VS Enemies CON check to afflict a variety of effects to targets with Nightmare at the cost of 1 action. Only one 'Effect' May be applied to any given target. These effects last Three turns, And once done, The amount of Nightmare Stacks from the effect are Consumed.
-
If the target has One Nightmare Stack
; Raffideux may Apply 1 turn of Fear onto a target.
-
If the target has Two Nightmare Stacks
; Raffideux may reduce the Crit Score on that target, so that one can CRIT That target on a roll of 19.
-
If the target has Three Nightmare Stacks
; Raffideux May reduce the target's Status Resistance Chance by -10%.
-
If the target has Four Nightmare Stacks
; Raffideux may apply an additonal 1d10% Damage to a target on her next attack dealt to them.
-
If the target had Five Nightmare Stacks
; Automatically afflict Sleep or Fear!
Pays Des Merveilles/Wonderland
: 'Welcome to Wonderland~"
Raffideux's Mirage Magic has granted her a Surprising power, In the Form of...Actually being able to force people into her own Mirage Portal! Looking her Dead into her eyes, Causes a target to be Warped into 'Wonderland', Or Atleast, They Perceive themselves as having been warped to a new Location.
WIS VS INT. If Failed, The Target is trapped within a 'Mental Prison', Perceiving themselves as if they are by themselves in a new dimension. This Dimension may be the same as the world they previously were in, But surrounded in Darkness, Or, an entirely new Locale, Or even a realm of there deepest, most darkest nightmares! If a Target has three stacks of Nightmare, The enemies INT Check can be forced to be made at Disadvantage, And consume the Nightmare stacks.
When in the 'Mental Prison', The Target is treated as if they are Afflicted with Blind, And that they can not see any entities besides Raffideux. Each Turn, The Enemy will have 2d7% Psychic Damage dealt to them, The Psychic Damage appearing as if they are being attacked by something from the Mirage, Or Tortured against there will. If they have a Positive INT Modifier, They can reduce the Damage done by there modifiers amount. If it is negative, Add the Negative INT Modifier to the Damage as a Positive.
The Enemy may make a INT check each turn to Break the Mental Prison against Raffideux's Initial WIS Roll, Gaining a stacking +2 to there INT Score each failed attempt to escape. Once the Enemy breaks free, Blind is Removed, And they heal for there Positive INT Modifier, If Applicable. Once Broken, This move has a 3 turn cool down.


Nightmare Summon:
This Spell requires Three actions to Perform. If the Target has Two or more Nightmare Stacks, Raffideux may reduce the Actions required Per-Two Stacks. 5 Turn Cooldown.
Using all of her Mirage Power, Raffideux Calls upon the Embodiments of Nightmare, Shadow and Vampirism into One of Four Summons, Which unleash a Massive Blow of damage each! Raffideux must first perform a Calling of the Nightmare Spirits into her Right Hand. This causes her Right Hand to act as a Catalyst for the Portal, And may be casted with the Following Chant;
"Creatures of Darkness, Monsters of Shadow, I summon you from the Depth's of all nightmares into my Right hand to show my enemies the power of Night!"
Once this is done, A Nightmare Mirage Portal opens forth, And Raffideux Must perform One of Four Special Enchantments, To summon One of Four Types of Monsters;
Scylla: "Nightmare of the Depth's, Fiend of the Unknown, I summon you from the endless ocean to bestow to my Left hand, The Pressure of the abyss, The Power, Airtight! Combine and Come forth, Scylla!"

Summons forth 'Scylla', A Matron of the Oceanic Depth's and a Mirage of Blue Sea's, Whom using the Nightmare Portal, Sends out a Gigantic, High-pressure Blade of Ocean Water to slash through any target with a Deep Cleaving slash! Deals 32% Damage and Afflicts Soaked.


Thunderbird: "Nightmare of the Weather, Fiend of the Sky, I summon you from the endless clouds to bestow upon my Left hand, The Crash of Thunder, The Power to Smite! Combine and Come forth, Thunderbird!"

Summons forth 'Thunderbird', A Massive Winged Lightning God, And a Mirage of Terrifying Storms, Whom when using the Nightmare Portal, Emerges covered in a gigantic form of Lightning at blinding speed to Crash and Electrocute a target to nothing! 32% Damage, Afflicts Paralysis


Alrune: "Nightmare of the Hanging Vines, Fiend of Nature, I summon you from the Endless forest to bestow upon my Left Hand, The Rumble of Earth, The Power of Blight! Combine and Come forth, Alrune!"

Summons forth 'Alrune', Patron to the Hanged, and Mirage of the Deep Jungles, Whom, When using the Nightmare Portal, Drained the Life of the Nearby Plants and Air, Before firing off a Poisonous, Fiendous blast of Gas! 32% Damage, Afflicts Poison


Kagutsuchi: "Nightmare of Searing, Fiend of Cinder, I summon you from the Endless Fires to bestow upon my Left Hand, The Engulfing Inferno, The Power of Light! Combine and Come Forth, Kagutsuchi!"

Summons forth 'Kagutsuchi', A Woman burning with a blaze of Glory, And Mirage of Endless Inferno, Whom, When using the Nightmare Portal, Fly's at the target to Consume them in her walking inferno as a Massive Ball of Fire! 32% Damage, Afflicts Burn


Buveur de rêve
: The Ability to Devour the Dream that forms the mirage has become Raffideux's primary ability. Once absorbing the Mirage Power, Raffideux has Mutated her ability known as 'Mana Drain', In order to transform it into the ability to Devour the Dreams of her enemies!
By either attaching a Draining Whip of Mana Drinking Magic know as 'Mana drain' for WIS, Or using her STR to Force a target to be held and forcing a Bite into there neck to drink there Mana right from there blood!
WIS/STR Grapple Check. If this target is already Grappled, Restrained, Infatuated or Otherwise incapacitated, This spell attack Automatically succeeds. If Failed, The Target is Grappled, and Raffideux begins to Drink there Mana. This Grapple deals 2d5 Damage Once Per Turn, Healing Raffideux for Half of the Damage dealt. As well, each turn they are grappled, They also gain a Stack of 'Nightmare'.

Raffideux May also choose to go Fully In-depth with the idea of Devouring, And turn this move into a Nom Move by afflicting Digesting onto a target, And Swallowing them whole! This can be done by initiating a Second STR (For direct nomming) /WIS (For more Whimsical Methods using her Mirage Powers, Like Engulfing someone in her hair) VS CON Check against the enemy while they are grappled, Or with a STR/WIS Check made at Disadvantage.

However, If the Enemy has Three or more stacks of Nightmare, They may be consumed for Raffideux to Perform the 'Nom' Variation of this move automatically, With Advantage!
Empress by your Side


I am thou...
Thou, Art i...
We shall break free of the chains that seek us dead!
With the Awakening of the Persona, Antoinette, We shall Consume the Dream!
As a Shadow, Raffideux is capable of breaking free and awakening her 'True self', The Form of Raffina's Persona; Antoinette. However, Unlike most Persona's, Raffideux is able to control herself, And Revert herself back into her original form at will, Should she so desire.
Upon activation of this Final Smash, Raffideux transforms into the Persona, Antoinette. Raffideux is Untargetable by all forms of attack, and she instead attatches herself to an Ally. For Three turns, Antoinette is considered that allies 'Persona.' If the Ally falls, Raffideux is forced to end this final smash prematurely.
All attacks that Ally performs may now apply Stacks of Nightmare, If they meet the same thresholds as Raffideux (Roll's of 16 or higher apply 1, Nat 20's apply 2.). Raffideux may perform any attack in the Allies Move set (Though altered to be more in Raffideux's theme), and the Ally may perform any attack in Raffideux's Moveset. As well, The Ally may choose to use any of Raffideux's Modifiers for any roll, and Raffideux may use any of theres.
After Three turns, Raffideux returns to her normal form.
Other Info
:
Despite being on bad terms with her, Raffideux still seems to hold a strong belief that Raffina is just as high on the scale of Royalty as she is.
Loves to compare her foes and enemies to Food for her consumption. This is mostly due to her comparing Draining Mana to getting to eat food, As it does give her a warm feeling in her belly, as well as a full feeling.
Raffideux's Name is a Combination of Raffina and Deux, French for Two.
Has a Body that feels soft like a pillow!