Post by PolarStarQuote on Aug 2, 2020 21:31:12 GMT -8
10
total points to distribute
| | | |
| --- | --- | --- |
| Discipline | Stat Pts | MOD |
| STR | 14 | +2 |
| DEX | 14 | +2 |
| CON | 6 | -2 |
| INT | 10 | +0 |
| WIS | 10 | +0 |
| CHA | 16 | +3 |
Yumi
TV Station, Ape Escape Earth
Alignment
: Lawful Good
Motto
: "
Bouncy~ Bouncy~ Happy Bouncy~ ! Lovin~ Lovin~ This Sensation~ ! Always~ Always~ Goin my way~ ! Hearts~a~ Poundin~ Happy * Sensation~!
"
Allies/Friends
: Kai (Twin Brother, Friend), Aki (Aunt, Friend), Casi (Friend/Guide), Spike (Friend), Jimmy (Friend), Natalie (Friend), Professor Zizel (Friend), Doctor Tomoki (Friend), 'Snake' (Friend [?])
Enemies/Rivals
: Monkey Pink (Rival Popstar/Enemy), Specter (Enemy), Monkey Yellow (Enemy), Monkey White (Enemy), Monkey Blue (Enemy), Monkey Red
Backstory
:
apeescape.fandom.com/wiki/Yumi
Appearance
:
History On Li
: "Aki, Yumi, Kai, Its horrible!! Specter's gotten a hold of the time machine again!" Was the call that Yumi's Aunt, Aki, Received from Natalie , as Natalie was bound up in a deal of Rope by an oncoming onslaught of Monkeys! It was in that next instant that Yumi, Kai and Aki were already running through aki's warp Station, to arrive at the professors home, to see Specter at the helm of the Time Station. "Specter!" Yumi cried out, Pouting and pointing at him. "Just what do you think your doing?!"
"Hah! You nincompoops have no idea how long i've waited for this! Were officially going back in time, and changing the course of history! ...A-again."
"..."
"Look- the community idea bucket was empty, Cut me some slack!"
"Regardless-- Were not gonna let you do this!"
"Hah! I already have!" Specter called out, Slamming a button...
However, Unlike specter had planned, There was no big Warp and change in history. There was...Simply suddenly froze time. It was then, that Cassi Emerged, And looked upon the scene. "Oh dear...Specter totally shattered time." She said, Pouting. There wasn't many options-- The Time Station having destroyed time itself for this world...So, cassi instead took the fragments of time, And moved it...To Li.
Yumi was dropped onto Li from this departure, suddenly landing in Hylia's grace academy with her Aunt Aki and Brother Kai. Aki, Immediately determined to help the Situation of Li, Has formed a collective group along with other Ape Captors, To help Li together, at her own Warp Station, With Yumi taking lead!
Primary Attacks (3)
Stun Club
:
The Stun Club is a Weapon, Expert in its power to clobber monkeys around and...Well, Not much else! This Beam-weapon maximizes its energy into a Non-fatal Blunt-force attack, That ensures monkeys can be stopped and stunned, But not so much that it'd kill them! Yumi's happens to be colored a bright pink and modeled after a Magical Girl wand, as opposed to the typical Techno look the other Stun Clubs posses.
(STR. Deals 7% Damage, Can not deal fatal damage. If landing a Critical Hit, Instead of the 2x Damage bonus, Afflicts Stun. Can Crit on rolls of 18+. Alternatively, Can use her 'Spinning Blade' Technique to deal an 18% Damage attack that does not apply the Stun-Crit Effect, Or have a lower Crit Effect.)
Slingback Shooter
:
The Sling-back shooter is a Modified High-power Sling shot, That uses three unique types of Pellet Ammo. Yumi's has a heart in place of the green gem.
Yumi begins all threads with Three 'Pellet' Types. Each of the types of Pellet Ammo consume an action on use.
1 action: Normal Pellet - A Simple Hard-rock Pellet that can be launched with a DEX Check. Deals 10% Damage. Can hit Switches and Press buttons.
2 actions; Guided Pellet - A Pellet that explodes into a set of Three other Pellets to Home in on targets! DEX Check Three times, Each pellet dealing 9% Damage!
3 actions: Explosive Pellet - A Pellet of Flashing Explosive Energy, that...Well, Explodes! Deals 20% Damage, 45% Chance of afflicting Paralysis. DEX Check.
Super Hoop
: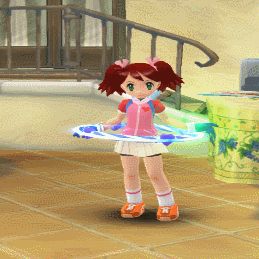 By Spinning the hoop around your hips, It Gradually builds up enough speed until It starts moving so fast, it causes the one inside of it to go dashing off in one direction at Super High Speeds! She runs fast enough to match pace with sports cars, Run across water, And speed against closing doors! As well, the rounded ring of the Super Hoop happens to act as a Stun Club in it of itself, So if you happen to get in Yumi's way in its use...Well, Expect a High-seed Crash!
(DEX. 20% Damage. Yumi can consume an extra action to add +4% Damage and a +1 to the DEX Check for the attack. May be used to boost DEX on DEX Based Checks based on running or speed, But not on Aiming or Gun use. 3 turn cool down.)
Special Attacks (3)
Time Net
: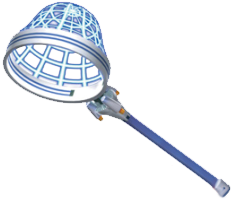 The Time Net is the Premier, and most necessary tool for any Monkey Catcher like Yumi! A marvel of modern science, the Time Net manipulates the very energy used in Time Travel into the fibers of its net, In order to send enemies through the very time ether, Into a safe space to neutralize them. The Time net can also Expand and transform to catch larger enemies.
STR. Can be used to Grapple a Foe normally, Or Afflict 'Time Warped'! An Affliction that is an Offshoot of 'Swallowed Whole', And functions similarly. 2 Turn cooldown.
Time Warped; "The Character is Trapped in a Time Warp by Casi, Forcing them to be safely Pacified until they are sent elsewhere! While Warped, the target can only take 2 actions per turn even accounting for action boosting buffs. To escape, they must deal a cumulative 40% damage to there Surroundings-- Offset by any Healing Yumi Receives--Explained as healing Casi, To maintain the Time Warp. Always calculate that turns Draining damage prior to determining whether they escape.
The creature that does the Catching rolls to reduce the damage of all physical attacks from the victim instead of say dodging. Mental attacks do not contribute to escape. This roll has sides equal to half the damage of the offending attack plus their con mod, and uses their con mod again as its modifier. You then make a draining damage attack as a free action that deals damage equal to 10 + a die with sides equal to half the damage directed at it from within that turn, healing for half the damage done. If they rolled the maximum natural number for a resistance roll, they add that attack's full damage instead of half its damage to their draining die.
Each turn the victim attempts to escape and fails, the creature's damage resistance roll gains a stacking +2 bonus and their drain damage gains a stacking +4 bonus. If the victim is KO'd, the creature continues to heal for 1d10+10 each turn for 3 turns, As the Victim is Warped away to a locale of Yumi's Choosing!
Yumi's Fanclub!
:
Yumi is a Popstar, and is adored by Monkeys all around the world! Weird as it sounds, Yumi can use her charm to actually summon up her Fan Club from behind the scenes, To aid her in a Pinch!
The Monkeys summoned are based on a flat d20 Roll. All attacks made by them are used via Yumi's CHA Roll, To encourage how hard they fight. On a 20, Yumi summons her best fans of all, Her friends and Family (And the odd arch nemesis or two), To help her out in a scuffle. They act as Temporary companion characters, and posses 100% HP. Art cost of an extra action, Add or Subtract 1 to the Summon roll result. 3 turn cool down.
1) Sad Pants Monkey!: A Simple Monkey wearing Sky-Blue Pants, who's awfully Sad and not quite that good at fighting. But, It does provide a little help by tossing out a Bannana Peel Item, Before running away!
2-4) Yellow Pants Monkey!: The Normal Standard Yellow Pants Monkey, Who runs right up to an enemy and goes Helicopter Fists on them, Spinning it's arms around to flailing attack for 3d4% Damage, Before running away!
5-6) Pink Pants Monkey!: The Pink Pants Monkey hops out, to Throw something random! Roll a 1d100. If Lower than 50%, she throws a Rock that deals 1% Damage. If 51-75%, She throws a Bannana Peel Item. If 76-95%, She throws a Boomerang Item. If 96% or Higher, Throws a Random Pokeball.
7) Blue Pants Monkey: Blue-pants wearing Monkey that runs out into Combat at furious speeds, Trying to crash into an enemy they locate at 14% Damage!
8-10) Red Pants Monkey: This Red Pants monkey brandishes Boxing Gloves, Running up and Delivering a straight Hook on the enemies jaw! Wham! Deals 18% Damage!
11-12) Black Pants Monkey: This Mean Monkey with a bad Attitude loads up a Uzi-- Filled with Fake Rubber Bullets that sting like hell. Deals 1d32% Damage!
13-14) Green Pants Monkey: The Green Pants Monkey is a Pristine Inventor, who carries Science Grenades! He Throws them with Full force, Unleashing a 24% Damage Explosion on the Target area!
15-16) Darth Monkey: The Darth Monkey...Yes, Its a Monkey thats a Space Warrior. Comes Forth and Performs a Dark Choking Attack on the enemy, Afflicting them with Suffocation and dealing 5% Damage, and acting as a Grapple, Or, With a 20% Damage Light Beam sword Attack!
17-19) THE IMMOVABLE GONZALES: This Massive Giant Monkey runs up and Slams the Target with both fists! Deals 32% Damage, at -2 Accuracy!
20) Calling in a Friend! Summon One companion from the List of four Below. Can not have more than one companion at a time.
Kai


Kai is Yumi's Twin Brother! ...He also dyed his hair in order for these two to be more easily told apart for that reason. Kai has the Same Move set as Yumi does, Or one of her Morph Gear Move sets ((Except for Princess Ace)), And with a Stat Set set of;
STR; 17
DEX: 14
CON: 14
WIS: 10
INT: 6
CHA: 9
Instead of Princess Ace, Kai can be
Gatchaman
, In which 'Princess Drop' is replaced by 'Thunder Kick!', A Move That deals 22% Lightning Damage for a 2 turn cooldown.
---
Aki is Yumi's Aunt, and Primary Caretaker on Li. She informs her on her Mission briefings, Gives a lending communication in Missions via Yumi's Flip Phone, And the kind of mother figure who will run in and help when needed!

STR; 12
DEX: 10
CON: 10
WIS: 8
INT: 16
CHA: 14

Aki comes to the Field equipped with The same Move set as Yumi, Or one of her Morph Gears-- Except instead of a Stun Club, she uses a Pair of Robotic Arms from her backpack to Grapple at targets with STR!
---
Spike


Spike is the Protagonist of Ape Escape 1, And the Hero of his World! He is known for being incredibly Brave, and Able to stand up to all Monkeys! He is also given some fancy technology.
STR; 14
DEX: 14
CON: 12
WIS: 12
INT: 6
CHA: 12
Spike comes equipped with a Time Net and Slingback Shooter like Yumi, as well as these weapons;
Stun Blade: A High-caliber Blade that is made of energy, Which, Spike uses to Swing and Slash against targets with a Mighty 22% Damage! -2 Accuracy to hit.
Dual Stun Clubs: Two Stun Clubs that Spike Dual Wields for Maximum Hurt! Deals 2d10% Damage when used.
And his Magic Punch: A Boxing Glove attached to a Spring, when pulled, deals a MASSIVE attack! Deals 32% Damage, Can only be used once when Spike is summoned.
---
Specter
Specter is the Leader of the Evil Monkeys what Yuumi is out here trying to defeat! ...He's not actually a friend of Yumi's. But, He does show up to try and Attack Yumi , And incidentally gets jealous of whoever she's fighting now, and will try to stop them himself.
STR; 6
DEX: 6
CON: 12
WIS: 18
INT: 18
CHA: 10

Specter comes with his own Stun Tonfa, Dealing 2d10% Damage when used.

He possesses Telekinetic Powers, Able to Attack an Enemy by Physically lifting them from the ground and Slamming them away, Or Throwing a physical object telekinetically for 20% Damage (1 turn cooldown)

His own 'Dark Net', Which afflicts Time Warped, on a 2 turn cooldown.

Specter Possesses a Dark Ray of High Heat Power, That deals 14% Damage with 20% Burn Chance

Specter can Unleash his 'Dark Form', To Deal an additional +1d7% Damage to all of his attacks for 3 turns, at a 3 turn cooldown.

And lastly, Specter can Unleash an intense Gravitron Field, Causing all enemies to suffer 1d20%+(enemies CON)% Damage! 3 turn cooldown.


---
Solid-Light Casi


"I am Casi! I am designed to help you in all your needs."
Casi is a Holographic On-board Computer who helps operate all technology that is used by the Monkey Catchers! She is also Completely Sentient, If not a bit confused by Human Emotions, Though, she is curious! She appears as a Solid Light Program at request. She also has Control of time!
STR; 12
DEX: 10
CON: 6
WIS: 18
INT: 14
CHA: 10

Casi can Capture Enemies in a Time Dilation like the Time Net with similar applications-- Except with using WIS instead of STR.

She has an arm Cannon that can fire Buster Shots of 8% Damage, or Charge Shots for 18% Damage

She can fire Elemental Bolts of energy for 13% Damage, with a 25% Chance to Burn, Paralyze, or Soak of her choice, With Fire, Electric and Water elements respectively.

She can Warp Time around her Allies to Boost there Dodge Rolls by +1 for 3 turns (3 Turn cooldown)

She can afflict slow onto her Enemies in an AOE Effect (2 turn cooldown)

Or, She can Stop Time for All but her Allies in a Battle, Allowing them to have a +4 To hit on there First action next turn on all enemies, And forcing enemies to Roll via there CON Stats in place of DEX. Once per Summon.


---
Morph Gear:
Yumi's Transformation move! Using her Aunt Aki's Morph Gear, She changes form into one of her Morph Forms, To be listed as Replies to this App!
Dexter's Wrath!
Dexter is a Dinosaur that had managed to survive the extinction of his race, and evolved well beyond the Jurassic Era and Beyond! Some say Dexters still alive...Infact, we know he is! Because when this Final Smash is Activated, Casi comes from Yumi's Net, And Opens a Time-Gate, Summoning Dexter onto the Battlefield!
Dexter simply inhales with an open mouth, Sucking in all enemies into his awaiting mouth to Afflict a Massive Chomp! Afflicts all foes with Swallowed Whole for this turn-- Afflicting Digestion Damage Three Times. Damage attacks this turn are treated as only dealing 1/4th Damage, Due to Dexters Sheer Mass.
Next Turn, Dexter may stay on the Field, Being treated as a 150% HP Entity that can do...Nothing much else beyond sit there and continue afflicting Digestion Damages, Or, Dexter may vanish, and all foes afflicted by Swallowed Whole may be replaced by Yumi's Time Warp Status instead, for the Same Effect!