Post by Deleted on Jul 26, 2015 14:05:44 GMT -8
California, October 23rd 1929
Paula looked out the taxi window at the stunning view of the slow setting sun infront of her. Her bags were beside her as she was invited to be one of the 15 VIP Passengers on a new ship called the Andrea Doria, she chose to wear a Flapper dress for the occasion..And no it was not the same one that sunk it was a different one it just had the same name as the Doria. Paulas parents, her mother being a dean of a university and her father being a famous actor had left town for a few weeks to do there respectful jobs. They would only this once a month since they fear neglecting there daughter. They couldn't wait to be in the arms of Paula when they get home..
And this will probably be there last...
Paula was quite fearful of going on this cruise after the reports of sinkings had rised due to the notorious terrorist group "The X 16" who would hijack a cruise ship and force the passengers to kill each other if they wanted to escape, however once there was one passenger left the group leader..Who was called Mr X would blow up the ship with the lone passenger in it. They were originally 18 members, but one of them was found dead in one of the ships..His name was Jimmy and he was faking his job as a Bellboy of the ship for the group..There were 3 survivors who managed to escape X's sick game.
The first one was Courtney Hill, she was one of the lone passengers who managed to survive the bloodshed that went on the ship she was on. After finding out that X was going to blow up the ship with her left behind she managed to catch a life boat and sailed off to the nearest island..Although she survived she was arrested over preforming 20 murders on the ship and was sentenced to life in Prison.
The second and third survivors were Silvia Patten and Tweedle, Silvia did not mange to kill anyone but she worked together with another passenger called Charlie Panther to escape the ship before both were killed by the other passengers, Before the ship exploded Charlie mysteriously vanished forcing Silvia to escape by herself, not before running into Tweedle, a dog that belonged to an elderly yet cruel passenger named Tweed. She took the dog and together the lady and dog escaped the ship before it exploded..Charlie Panthers body was never found and is still missing this very day.
Although her parents were worried, they gave Paula there blessings on going on the cruise, hoping she could meet new friends and eventually a boyfriend since she always helped any random folks at home with her PSI Powers and she never had plans for the future yet.
"The Wall Street Stocks continue to be in an unsta--
The Radio in the front area of the taxi was quickly turned off by the driver, who expressed annoyance at fears of some crash in Wall Street. "Honestly people are paranoid sometimes, that will bounce back up before you know it..How about you Miss Polestar do you have any stocks in Wall Street?" The Driver asked. "Na, i'm not a big fan of that. Besides my Parents always said that its useless to us since were already rich and wont need stocks..But yeah it'll probably bounce back up soon, Wall Street is one of the most used stock places." Paula said soon after. She looked at the invite to the cruise one more time..Before hearing the sound of cheering nearby, it seems they have made it to the docks.
As soon as the taxi parked Paula took out her wallet and gave the driver some money. "Here you go, also buy yourself something." Paula said giving the driver more money. "Gee, thanks miss. Enjoy your cruise!" The Driver said as Paula grabbed her bags and left the taxi and it soon drove off.
She was soon met by humans, Koopas and other creatures taking photos of her and asking questions relating to the cruise she was about to embark on. "Oh right this an alternate universe." Paula said to herself as she ran to the ship that was now infront of her.
Paula was amazed at the sight of the ship and saw the stairs leading up to it. Without a hunch she quickly ran up to it to avoid all of the paparazzi and breathed a sigh of relief once she made it onto the deck and looked down at the people to give them a wave. "Need a help with those bags miss?" A Person said behind Paula. She turned around and was soon met by a Bell boy. "Oh yeah, can you take it to my room..I don't know which one i was assigned to, the invite just said to come on board.." Paula said showing the bell boy the invite. "Ooh that, your room is 667..I'll take your bags. I'm Jonesy by the way, a bellboy that's been assigned on this ship. Its nice to meet you miss." Jonesy said as he reached towards Paulas bag, Paula however shaked Joneys hand in a friendly tone. "Its nice to meet you too Jonesy, goodluck on your job." She said as she watched Jonesy grab her bags and walk off further into the deck. She turned around and continued to wave at the people down below..And wait for the 14 other passengers who were invited.
Meanwhile as soon as Paula was out of his sight Jonesy ran into a nearby lounge.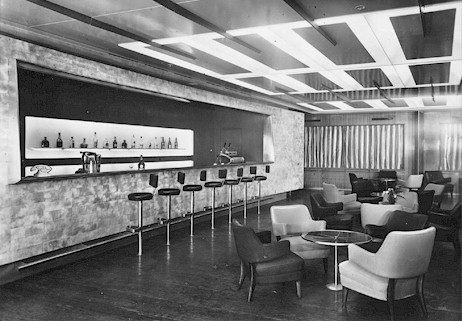 There was also music playing in the area.
Inside the lounge there was 11 other people, the first one was a blonde lady in a nurses outfit sitting down on one of the couch's in the large area. Sitting beside her were two other women and an elderly man in a judge robe. The first lady was wearing a bankers outfit while the second was wearing a posh purple dress. At a nearby bar there is a French man with a moustache making drinks while wearing a bartenders outfit, there was 5 stools that had the last five people sitting on them, they all looked the same, male and wearing Police outfits. Jonesy walked pasted them and opened a hidden wall near some bedrooms. As soon it was open Jonesy threw Paulas bags into it and slammed it shut before looking at everyone.
"Where's everyone else?" Jonesy asked. "Getting ready..Duh. Do you have to ruin our chats?" The Lady in the nurses outfit said. "Well you all should get also, the first passenger is already here!" Jonesy said. As soon as everyone heard the news of Paulas arrival everyone but the French bartender and Jonesy left the room to get ready for something. Jonesy sat across the bartender and spoke evilly.
"I cant wait for the games to begin, those passengers will be forced into a game of cat and mouse and this time Jimmy wont be apart of this, because he's dead...Muhahahahaha!"
"Must you laugh sir?"
---
Meanwhile two other guests for the ship had arrived via taxi again. The first to come out of the taxi was a woman in her late teens with wicked red hair, she was also wearing a black dress and seemed to not care for the Paparazzi that had almost swarmed her. "Wow its Razor! She was invited?, How is your Troubled career!?" The Crowd had said. Razor just sighed and said. "Its..Fine." And with that Razor walked to where to the Andrea was, The next lady to come out was around the same age as Razor, only she had short black hair and was wearing a "Fritzi Ritz" dress. "And me, Wendy, an upcoming author and Razors friend." Wendy said..The Paparazzi..Did not even focus on her they were still mainly focusing on Razor. Wendy sighed and grabbed her bags before running up to join her friend Razor.
"I kinda wish Dave and everyone else would of came." Razor said dully. "You know Dave, he's focusing on his future with Sandie, plus after this cruise that Meteor guy was supposed to meet us for a deal in Indonesia..Which is close to the small island this cruise is supposed to take us." Wendy said soon after. "Gee, thanks for reminding me about something i already know." Razor said back. "Lets..Just enjoy the cruise." Wendy said soon after as the two women made it onto the boat. As soon as Jonesy appeared to the two, Razor threw her bags onto him and then threw Wendy's bags soon after. "Put our bags into the unknown bedrooms were assigned too..And don't break our stuff." Razor said to Jonesy. "Ugh..Not a problem." Jonesy said as he pulled everyone's bags towards the hidden wall.
"The things Bellboys do sometimes..."
When Jonesy left Razor ran towards the bar and sat at a stool near Peacock. "I'm 18, does that mean i could drink anything?" Razor said showing the Bartender a card, he looked back at Razor. "I don't see why not..What do you want?" He said. "Anything that would make this cruise a blur to my life." She said as the Bartender left to serve Razor a drink, the girl then made a snicker unaware that she was actually 17 and she just faked her age.
Meanwhile after Razor ditched her, Wendy looked around at the lunge, Paula had just entered and sat at a nearby couch..But she was not interested in Wendy right now it looks to her that this will be one weird cruise for her. Wendy awkwardly walked to where Ignatius and spoke. "So..You into Journalism?" She said to the Koopa.
Last Edit:
Jul 27, 2015 13:41:30 GMT -8 by
Deleted
: Changed the Topic Description.